GEAR UP funds unique experiential summer learning opportunities every year that are free to GEAR UP students.
Summer Programs 2023
If you want an amazing and educational free summer experience, learn more about the GEAR UP Summer Programs! Contact your school's liaison if you are interested in upcoming services.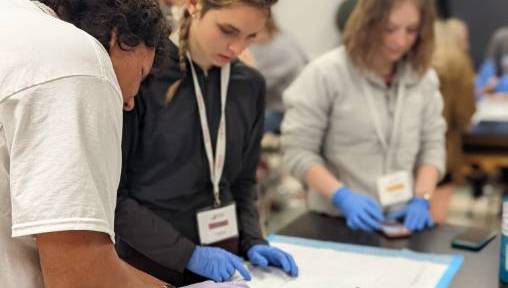 Montana Area Health Education Center (AHEC)
A week-long summer program, hosted on 5 Montana college campuses, gives priority to rural, minority, low-income, and first-generation college students who wish to pursue a career in the health sciences. The program provides an introduction to health science college pathways and careers, financial aid information, dorm life experiences, and job shadowing opportunities.
Program Options:
University of Montana (Missoula) June 11-15, 2023
University of Providence (Great Falls) June 19-23, 2023
Montana State University Billings (Billings) June 25-29, 2023
Miles Community College (Miles City) July 16-20, 2023
Montana Tech (Butte) July 23-27, 2023
Eligibility: Students entering grades 11 and 12 in the fall
Application Deadline: Please contact Westyn Kiehn for details at westyn.kiehn@mtha.org
Questions? Email Lily Apedaile at lily.apedaile@mso.umt.edu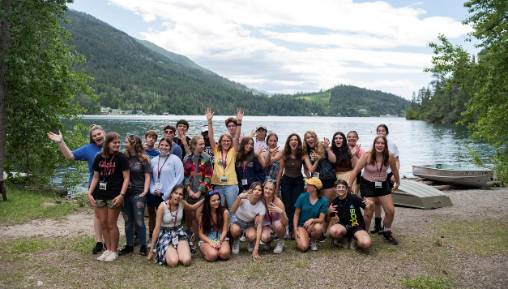 University of Montana
Infinite Possibilities Await: The University of Montana Summer's pre-college program, Summer Exploration, is the perfect opportunity for students to earn two college credits and explore infinite possibilities during a transformative live-in, shared, two-week experience running July 15-28.
Applications are open with a final deadline of April 23. For more information on the program, including the five courses being offered, frequently asked questions, and a link to apply, visit the Summer Exploration website.
Your choice of five classes offered:
BIOB 191: MONTANA HABITATS
CJUS 191: CSI MISSOULA
COMX 191: INTRO TO DEBATE AND PUBLIC SPEAKING
ENST 191: ENVIRONMENTAL ETHICS: CLIMATE CHANGE AND SENSE OF PLACE
PUBH 191: INTRODUCTION TO PUBLIC HEALTH AND HEALTH SCIENCES
Eligibility: Students entering grades 10-12 in the fall
Where: University of Montana, Missoula, MT
When: July 15-28, 2023
Application deadline: April 23, 2023
Questions? Email Becka Simons at becka.simons@mso.umt.edu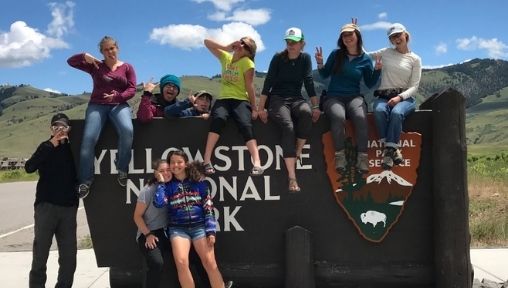 Ecology Project International (EPI)
EPI's Summer Wildlife Ecology Field Program provides immersive field science courses for students in the incomparable Greater Yellowstone Ecosystem. Students will learn about wildlife and invasive plants--spending their days working alongside wildlife scientists to conduct research and work on conservation projects in Yellowstone National Park. And at night, camping out under the wide, starry Yellowstone sky!
Eligibility: Students entering grades 8-11 in the fall
Where: Yellowstone National Park and Montana State University
When: June 21-25, 2023
Application deadline: April 21, 2023. To enroll and reserve your spot, select "Yellowstone" and "6/21/23 - Gear Up" from the drop-down menus and fill in your personal details.
Questions? Email Mari Houck at mari@ecologyproject.org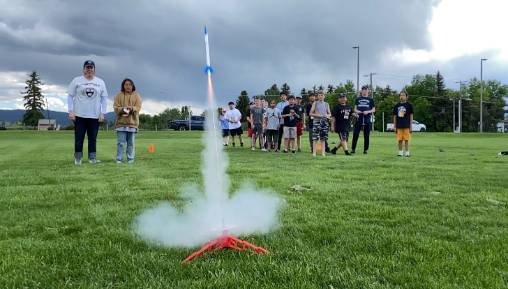 Montana State University
In partnership with NASA, MSU Explore provides students the opportunity to live on a college campus for a week while learning about science, technology, engineering, and math. Students choose three classes to take for the week. Each class meets for one and a half hours per day. In the afternoons and evenings, students can participate in activities such as movies, bowling, arts and crafts, and a trip to the Museum of the Rockies.
Eligibility: Students entering grades 7-9 in the fall
Where: Montana State University, Bozeman, MT
When: June 11-16, 2023
Application deadline: April 21, 2023
Questions? Email Jamie Cornish at jcornish@montana.edu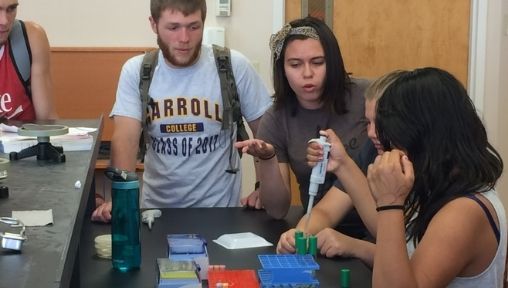 Carroll College
Participants will work on environmental research projects led by Carroll College students and faculty. To reinforce learning, the program will invite various organizations such as the Montana Historical Society, the Department of Fish, Wildlife and Parks, and 406 Recycling. The Helena Indian Alliance will lend expertise in traditional games and a mini Pow Wow.
Eligibility: Students entering grades 7-9 in the fall
Where: Carroll College, Helena, MT
When: June 18-24, 2023
Application deadline: May 31, 2023
Questions? Email Kathleen Gilboy at kagilboy@carroll.edu.
Partners:
If you are an organization supporting summer academic learning and in need of sponsorship please consider completing the GEAR UP Summer Program Request for Proposal to partner with us in serving GEAR UP students. Contact the Montana GEAR UP Office to learn more.