Montana's first community college, Miles Community College prepares students for success and provides opportunities for lifelong learning. Through quality programs, community outreach, and partnerships throughout the region, we're able to offer quality transfer programs as well as online and professional degrees that prepare you for the workforce as soon as you graduate.
Quick Links
What does the future have in store for you? Explore these quick links to find out what Miles Community College has to offer.
Learn about degree and workforce-ready programs at Miles Community College.
Use these links to find out more about the admissions and enrollment process at Miles Community College.
Life on campus at Miles Community College provides a great opportunity to be surrounded by peers and take advantage of the services and campus activities.

One Big Family
Miles Community College provides a welcoming environment where you can connect with your fellow students and staff.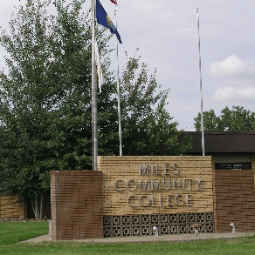 Probably my favorite thing about MCC is that it's just basically like a big family. Everyone knows everyone here. I can walk down the hallway and say hi to everyone and they'll know my name and I'll know theirs. I really like that part — just the closeness of MCC.
Blayne Hubing
Agriculture Production '20, Circle Montana
Contact Information
Have any questions or need help on anything? The Montana University System and the team at Miles Community College are on standby ready to help in any way you need.
Montana University System
Office of the Commissioner of Higher Education
560 N. Park Ave.
PO Box 203201
Helena, MT 59620-3201
General Info: (406) 449-9124
Staff Directory
Miles Community College photo credit: David Schott